Sister Circle Book Club


Not Just Another Book Club
The Sister Circle Book Club is as busy as ever, just look at the list of books we have read together I was thinking about the saying, 'One man's trash is another man's treasure' and I realized that this can apply to books also. Some books become one person's treasure – I loved it, I liked it – it inspired me etc. Whereas another book is someone else's trash – I disliked it, the story was too sad, I got mad reading it especially when…etc. Our meetings encourage everyone to share their opinion whether positive or negative. Whatever the opinion, these books all reflect aspects of Christian life and can be used to encourage, disciple and reach others. Many of the ladies in the book club share the books with their work mates, family and friends. As always, the group is open and welcoming to new visitors, whom we hope will enticed to stay. We want to see our group grow, so come on and check us out! Joanne.

For the month of March the ladies are reading "Before I Called You Mine" by Nicole Deese. We will meet to discuss this book on Monday, April 5 at 7:00 pm in the Library of the Office Building. Hope to see you there. We want our little circle to grow!

About this month's selection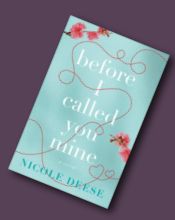 After many matchmaking schemes gone awry, Lauren Bailey's one goal is to become a mother. Remaining single to meet the adoption agency's requirements seems simple---until Joshua Avery appears on the scene. Now Lauren must choose between the two deepest desires of her heart. Can she say yes to one and let go of the other?
About the author: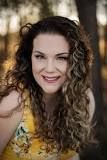 Nicole Deese is a Carol Award winner and a RITA and INSPY Award finalist. When she's not working on her next contemporary romance, she can usually be found reading one by a window overlooking the inspiring beauty of the Pacific Northwest. She lives in small-town Idaho with her happily-ever-after hubby, two rambunctious sons, and princess daughter with the heart of a warrior. Find her online at www.nicoledeese.com.
Sister Circle Reading List
2003/2004

The Sister Circle by Vonette Bright and Nancy Moser
The Amethyst Heart by Penelope J. Stokes
The Note by Angela Hunt
Leota's Garden by Francine Rivers
Eyes of Elisha by Brandilyn Collins
Hidden Places by Lynn Austin
Thorn in My Heart by Liz Curtiss Higgs
A Rush of Wings by Kristen Heitzmann
Unafraid by Francine Rivers
Round the Corner by Vonette Bright and Nancy Moser
Not a Sparrow Falls by Linda Nichols
Cape Refuge by Terri Blackstock

2004/2005

The Swan House by Elisabeth Musser
Blessed Child by Ted Dekker and Bill Bright
A Slender Thread by Tracie Peterson
A Time to Dance by Karen Kingsbury
An Undivided Heart by Vonette Bright and Nancy Moser
Fair is the Rose by Liz Curtis Higgs
The Salt Garden by Cindy Martinusen
Tidings of Peace by Tracie Peterson
The Debt by Angela Hunt
The Splitting Storm by Rene Gutteridge
If I Gained The World by Linda Nichols
Like a Watered Garden by Patti Hill
A Place to Belong by Vonette Bright and Nancy Moser

2005/2006

The Scarlet Thread by Francine Rivers
Whence Came a Prince by Liz Curtis Higgs
The Peacemaker by Lori Copeland
One Tuesday Morning by Karen Kingsbury
The Victory Club by Robin Lee Hatcher
At the Scent of Water by Linda Nichols
Beyond Tuesday Morning by Karen Kingsbury
The Drifter by Lori Copeland
Secrets by Kristen Heitzmann
A Can of Peas by Traci DePree
Grace in Thine Eyes by Liz Curtis Higgs
I'll Watch the Moon by Ann Tatlock

2006/2007

Eventide by Cindy Martinusen
All She Ever Wanted by Lynn Austin
Troublesome Creek by Jan Watson
The Sacrifice by Robert Whitlow
Even Now by Karen Kingsbury
A Carol For Christmas by Robin Lee Hatcher
When Crickets Cry by Charles Martin
Scoop by Rene Gutteridge
Grace at Low Tide by Beth Webb Hart
Ever After by Karen Kingsbury
Freefall by Kristen Heitzmann
The Last Sin Eater by Francine Rivers

2007/2008

In Search of Eden by Linda Nichols
Quaker Summer by Lisa Samson
A Woman's Place by Lynn Austin
The Scent of Lilacs by Ann Gabhart
Willow Springs by Jan Watson
The Book of Hours by Davis Bunn
My Hands Came Away Red by Lisa McKay
Every Secret Thing by Ann Tatlock
Chasing Fireflies by Charles Martin
Orchid House by Cindy Martinusen
Searching For Eternity by Elizabeth Musser
Torrent Falls by Jan Watson
2008/2009

Summer of Light by W. Dale Cramer
The Mill House by Paul McCusker
Flies on the Butter by Denise Hildreth
Dark Water by Linda Hall
Moon in the Mango Tree by Pamela Binnings Ewen
Love Comes Softly by Janette Oke
Black Ice by Linda Hall
The Shape of Mercy by Susan Meissner
The Outsider by Ann H. Garhart
The Centurion's Wife by Davis Bunn & Janette Oke
Until We Reach Home by Lynn Austin
Healing Waters by Nancy Rue and Stephen Arterburn

2009/2010

The Queen of Sleepy Eye by Patti Hill
Whispers of the Bayou by Mindy Starns Clark
Journey to the Well by Diana Wallis Taylor
From a Distance by Tamera Alexander
Though None Go With Me by Jerry Jenkins
June Bug by Chris Fabry
Though Waters Roar by Lynn Austin
Shadows of Lancaster County by Mindy Starns Clark
The Hidden Flame by Davis Bunn & Janette Oke
John 3:16 by Nancy Moser
The Believer by Ann H. Gabhart
Here Burns My Candle by Liz Curtis Higgs
2010/2011

Never Say Never by Lisa Wingate
Sixteen Brides by Stephanie Grace Whitson
Beguiled by Deeanne Gist and J. Mark Bertrand
Her Mother's Hope by Francine Rivers
Her Daughter's Dream by Francine Rivers
Ransomed Dreams by Sally John
While We're Far Apart by Lynn Austin
Pearl In The Sand by Tessa Afshar
Angel Sister by Ann H. Gabhart
Mine is the Night by Liz Curtis Higgs
The Summer Kitchen by Lisa Wingate
The Damascus Way by Davis Bunn and Janette Oke
2011/2012

Paradise Valley by Dale Cramer
The Sweetest Thing by Elizabeth Musser
The Girl in the Gatehouse by Julie Klassen
A Shepherd's Rod by Cris Pfeil
Bound By Guilt by C. J. Darlington
A Sound Among the Trees by Susan Meissner
Resurrection in May by Lisa Samson
Wonderland Creek by Lynn Austin
Larkspur Cove by Lisa Wingate
The Daughter's Walk by Jane Kirkpatrick
The Captive Heart by Dale Cramer
Promise Me This by Cathy Gohlke
2012/2013

The Baker's Wife by Erin Healy
Harvest of Rubies by Tessa Afshar
Not In The Heart by Chris Fabry
The Girl in the Glass by Susan Meissner
All Things New by Lynn Austin
Though Mountains Fall by Dale Cramer
The Tutor's Daughter by Julie Klassen
Moon Over Edisto by Beth Webb Hart
Sweet Mercy by Ann Tatlock
The Dog That Talked to God by Jim Kraus
Harvest of Gold by Tessa Afshar

2013/2014

Band of Sisters by Cathy Gohlke
Jimmie by Robert Whitlow
Wildflowers From Winter by Katie Ganshert
Return to Me by Lynn Austin
When Mockingbirds Sing by Billy Coffee
Against the Tide by Elizabeth Camden
The Air We Breathe by Christa Parrish
A Beauty So Rare by Tamera Alexander
Wildwood Creek by Lisa Wingate
A Fall of Marigolds by Susan Meissner
Dear Mr. Knightley by Katherine Reay
2015

Bridge to Haven by Francine Rivers
Where Courage Calls by Janette Oke and Laurel Oke Logan
In the Field of Grace by Tessa Afshar
Saving Amelie by Cathy Gohlke
Keepers of the Covenant by Lynn Austin
Miracle in a Dry Season by Sarah Loudin Thomas
The Story Keeper by Lisa Wingate
Esther by Angela Hunt
Stones for Bread by Christa Parrish
The Butterfly and the Violin by Kristy Cambron
Persecuted by Robin Parrish
The Sea Keeper's Daughter by Lisa Wingate

2016

A Sparrow in Terezin by Kristy Cambron
The Color of Justice by Ace Collins
Not By Sight by Kate Breslin
On This Foundation by Lynn Austin
Thief of Glory by Sigmund Brouwer
The Mountain Midwife by Laurie Alice Eakes
Bathsheba by Angela Hunt
Water From My Heart by Charles Martin
Counted With the Stars by Connilyn Cossette
Dauntless by Dina L. Sleiman

2017
Confessions with Saint Bernard by Jim Kraus
Land of Silence by Tessa Afshar
Waves of Mercy by Lynn Austin
As Waters Gone By by Cynthia Ruchti
The Undoing of Saint Silvanus by Beth Moore
The Girl From the Train by Irma Joubert
The Wedding Shop by Rachel Hauck
Long Way Gone by Charles Martin
Mark of the King by Jocelyn Green
A Tapestry of Secrets by Sarah Loudin Thomas
Life After by Katie Ganshert
2018

True to You by Becky Wade
Egypt's Sister by Angela Hunt
The House on Foster Hill by Jaime Jo Wright
Catching the Wind by Melanie Dobson
Where We Belong by Lynn Austin
A Dangerous Legacy by Elizabeth Camden
Freedom's Ring by Heidi Chiavaroli
Until We Find Home by Cathy Gohlke
Masterpiece by Francine Rivers
2019
A Daring Venture by Elizabeth Camden
Under a Cloudless Sky by Chris Fabry
Legacy of Mercy by Lynn Austin
Thief of Corinth by Tessa Afshar
These Healing Hills by Ann H. Gabhart
A Desperate Hope by Elizabeth Camden
Phoebe's Light by Suzanne Woods Fisher
The Curse of Misty Wayfair by Jaime Jo Wright
A Light on the Hill by Connilyn Cossette
The Memory House by Rachel Hauck
The Refuge by Ann H. Gabhart

2020
Becoming the Talbot Sisters by Rachel Linden
When Crickets Cry by Charles Martin
The Sister Circle by Vonette Bright and Nancy Moser
The Last Sin Eater by Francine Rivers