Ladies Bible Study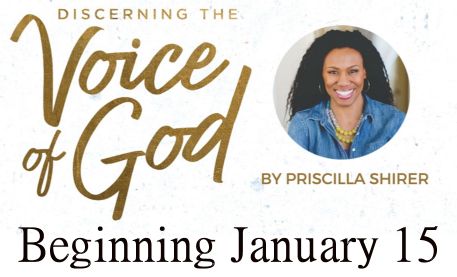 Ladies, join us for this Priscilla Shirer DVD Bible study, Discerning the Voice of God, beginning Wednesday, January 15, 9:00 a.m.—11:30 a.m. in Fellowship Hall and facilitated by Candace Andrews.
Discerning the Voice of God by Priscilla Shirer—How to Recognize When God Speaks. Having a hard time knowing what God is saying versus what others are saying? This Bible study is designed to help participants know the voice of God: His language, character, and tone of voice. By growing closer to God through His Word, participants will be able to discern God's voice from the voice of strangers. This 6-week Bible study includes video sessions.
Join in this powerful study of God's life changing Word, which will include prayer, fellowship, discussion and homework. Study God's Word with other women. Edify and encourage one another.
Cost is $15.00 for the study guide. All payments will be accepted when you pick up your workbook on the first day of the Bible study. Contact Candace Andrews with any questions.